CALASPARRA
VISITAS CUEVA DEL PUERTO
9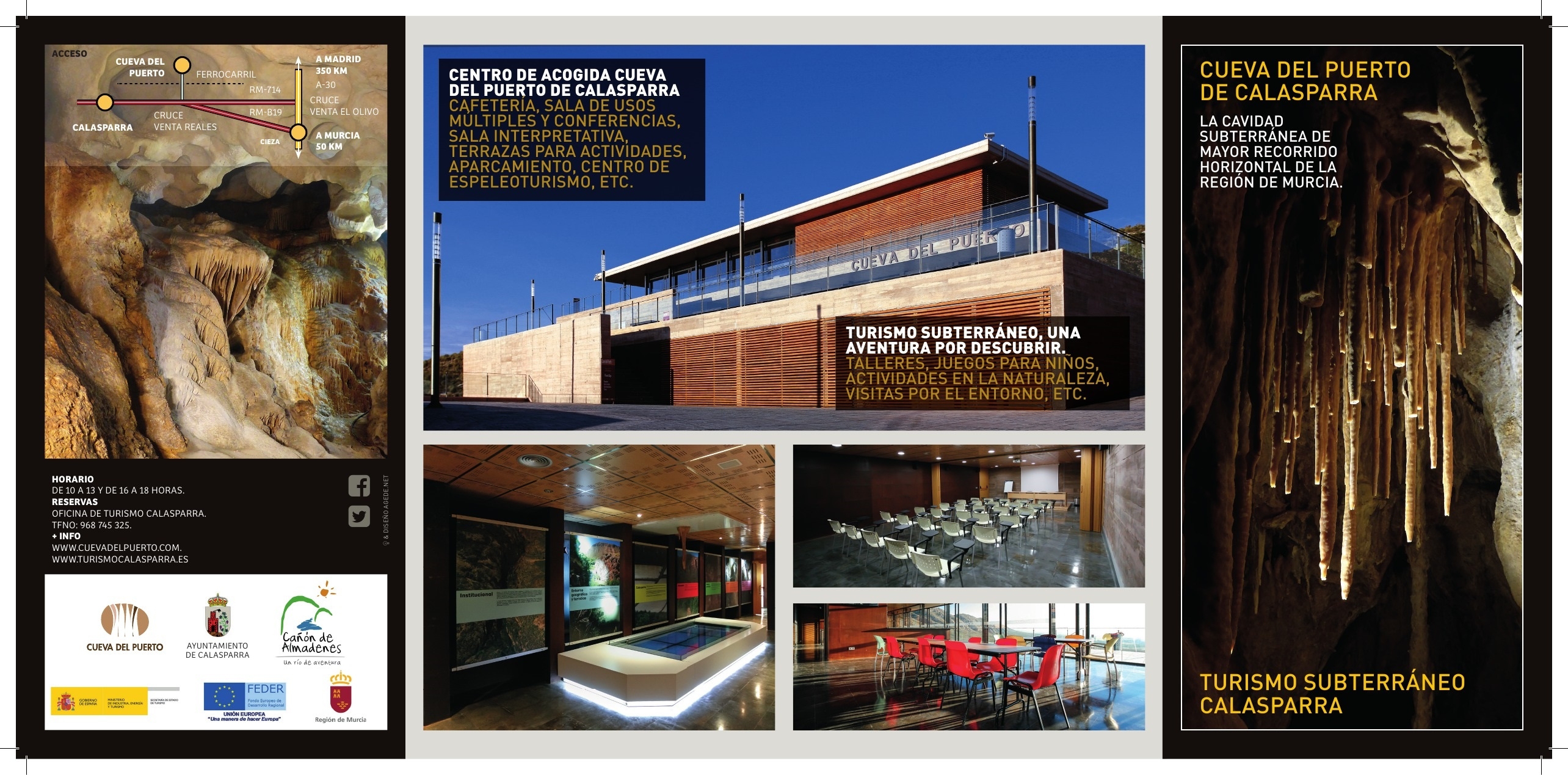 ACTIVITY INFORMATION
Visita Guiada a la Cueva del Puerto. Recorrido que se realiza acompañado de un guía. Tiene una duración de 1h y 10 minutos más o menos por el interior de la Cavidad. Observación de espeleotemas y galerías a través e sus diferentes Salas. Hay tres turnos, de Miércoles a Domingo. 10.00h, 11.30h y 13.00h.
Hay que realizar la reserva con anterioridad  o a través de cuevadelpuertodecalasparra@gmail.com.
 Se recomienda calzado cómodo.
SELECT THE NUMBER OF PLACES TO BOOK
Visitas Cueva del Puerto. - Visita guida por el Interior de la Cueva. 1.10h de duración 9,00 €
CANCELLATION FEES
Without concellation costs
CONDITIONS OF PAYMENT
Please select the services you wish to book in order to know payment conditions of this product.
Nada que destacar
Valorado por Sergio el 09/09/2019
La guía muy atenta y divertida.
Se va un poco rápido, no te dejan un ratito en cada uno de las maravillosas salas. Media hora más seria más adecuado. Algo de luz, los que vamos los últimos no podemos verlo bien pues el guía deja de alumbrar al irse con los primeros que llegan.
Valorado por María el 08/09/2019
La visita fue algo rápida y breve en explicaciones aunque la guía siempre animaba a hacer preguntas y sugerencias. Que no se pudieran hacer fotos sin flash es una cuestión que aún no entendemos.
El alumbrado de la cueva, éramos un grupo grande y si no alumbrábamos con nuestros móviles la visibilidad era escasa.
Valorado por María el 18/08/2019
Nada que destacar
Valorado por Mercedes el 12/08/2019
La reserva que hice a través de la página de Murcia turística no era válida. A la empresa que gestiona el evento no le habia llegado cuando yo la hice correctamente. Pudimos entrar porque había hueco, pero podíamos habernos quedado fuera después de llegar hasta allí.
Es necesario actualizar la página de Murcia turistica para hacer las reservas o la relación que existe entre esa página y la empresa que gestiona el evento.
Valorado por Trinidad Maria el 12/08/2019
Nada que destacar
Valorado por DOLORES el 02/05/2019
Nada que destacar
El alumbrado de algunos puntos ya q se hacia dificil caminar
Valorado por Concha el 02/05/2019
Me sorprendió mucho lo bonita que es , volveré con mis hijos y recomendaré que se visite...un rincón ¿¿¿¿
Bajaría el precio de la opción no turística,me encantaría hacer esos 6 km ¿¿ y por lo menos dejar hacer una foto de recuerdo
Valorado por ENCARNI el 01/04/2019
Todo muy bien. El guia muy amable. Estu e mandaando emails con la oficina y tambien fueron muy amables y rapidos en solucionar las dudas. La pena es que no dejaban hacer ni una sola foto de recuerdo dentro de la cueva.
Valorado por Lucia el 25/03/2019