LORCA
The Old Town Tour in Lorca
13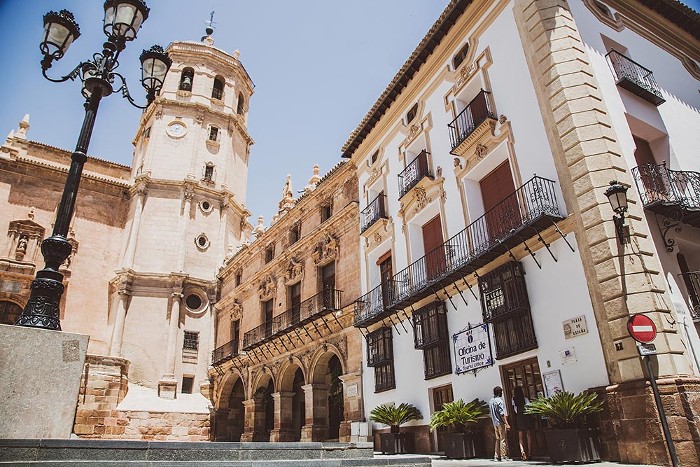 ACTIVITY INFORMATION
The heart of the Historical Centre is the plaza de España, around which the most important buildings for the town, the Concejo and the Colegial de San Patricio were erected. This outdoor guided tour will show you the most important Renaissance and Baroque monuments in Lorca.
Date:  3rd Thursday of month (except March, July and August) Timetable:  10:00 h Duration: 45 minutes Price: For free Meeting point: Oficina de Turismo de Plaza de España 48 h booking in advanced requiered
It is necessary to put a phone or email in the reservation where we can communicate with the owner of the reservation in case there are changes in it.

These tours are for individuals or very small groups so the organization reserves the right to cancel those reservations that exceed a maximum number.
SELECT THE NUMBER OF PLACES TO BOOK
The Old Town Tour in Lorca - English tour FOR FREE. 0,00 €
CANCELLATION FEES
Without concellation costs
CONDITIONS OF PAYMENT
Please select the services you wish to book in order to know payment conditions of this product.
Great staff . V helpful before event and very good on event day
Longer tour of area
Valorado por Clare el 16/02/2020
Very nice tour, short but very informative.
Don't think there is need for improvement. Thank you
Valorado por Caroline el 14/02/2020
Our guide was very knowledgeable and enthusiastic. I would recommend this tour.
I would have been happy to do a two hour tour.
Valorado por Mike el 14/02/2020
Jay, our guide, was delightful, personable, enthusiastic and well informed. She made the history vivid and exciting.
The tour was free and could not have been improved upon.
Valorado por Jane el 13/12/2019
Excellent tour with enthusiastic and knowledgeable guide.
Nothing.
Valorado por Chris el 11/10/2019
Nada que destacar
More detailed advice about whare to go nearby within walking distance and what is there at the castle
Valorado por Lynne el 11/10/2019
I really enjoyed the tour and the young lady who guided us, Jay was very knowledgable about Lorca and its history. She answered all our questions with confidence and was obviously very proud of her hometown. I will certainly book on future tours when I return to the area in October
Valorado por Kevin el 12/07/2019
Nada que destacar
Valorado por Gielen el 17/06/2019
Our guide, Jay, was very knowledgable. She presented the tour with professionalism and friendliness.
The tour could be longer to present more of the city.
Valorado por Michael el 14/06/2019
Jay was very knowledgeable and an interesting orator. What a fantastic free tour it was.
Wish it could have been longer!
Valorado por Mike el 14/06/2019
An excellent and informative tour with a guide who clearly knew her brief and was genuinely interested in sharing her knowledge. Her command of the English language was very good too.
There was a bit of a problem at the start when our online booking wasn¿t showing on the list, however the staff reassured us that this would not be a problem in terms of attending the tour.
Valorado por Irene el 16/02/2019
The tour was full of information and as we live in Lorca it helped us to know more about our new home.
to let visitors to the tour know that they get a 50% discount for parking in named car parks on the confirmation sheet as until the end of the tour nobody knew and some visitors had paid more in the other carks.But no critism,we will come again.
Valorado por CarOL el 15/02/2019
Very enjoyable. Jay knowledgeable and enthusiastic.
Could make it longer & visit more interiors.
Valorado por Michael el 15/02/2019