BULLAS
RUTA ETNO-ARQUEOLÓGICA
3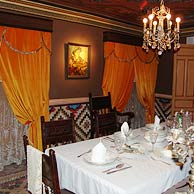 INFORMACIÓN DE LA ACTIVIDAD
Visita guiada por el interior de la Casa-Museo D. Pepe Marsilla, Bullas 1900.
Antigua casa señorial situada junto a la Iglesia Ntra. Sra. del Rosario que
muestra los modos de vida del XIX donde claramente se identifica la zona
residencial y la zona de labor.

En ese mismo
entorno, en Plaza vieja, se puede ver el Mercadillo de artesanía El ZACATÍN de
9.00 a 14.00, primer Mercadillo artesanal de la Región que se celebra el primer
domingo de cada mes y donde podrán disfrutar de actividades artesanales y otros recorridos guiados gratuitos.

 

Recogida de invitación: Punto de información turístico Mercadillo El Zacatín. 15
minutos antes de la hora de salida.

Hora de visita: 10.30 h. 
Duración de la visita: 1'15  h.

Se recomienda calzado y ropa cómodos. No accesibilidad.

La Organización se reserva el derecho a suspender la visita por
motivos ajenos o por condiciones climatológicas adversas.
SELECCIONE EL NÚMERO DE PLAZAS A RESERVAR
Casa-Museo D. Pepe Marsilla - Casa-Museo D. Pepe Marsilla. 10.30 h. Reserva por persona 0,00 €
CANCELLATION FEES
Without concellation costs
CONDITIONS OF PAYMENT
Please select the services you wish to book in order to know payment conditions of this product.
Merece la pena pero es corta
No me agradó entrar a los habitáculos a oscuras y que esté todo cerrado de cara a la calle. Por otro lado, se pierde la naturalidad al poner acentos no murcianos en la grabación de los personajes
Valorado por Fuensanta María el 05/08/2019
Nada que destacar
Se deberían abrir a la visita más estancias, que seguro que tiene la casa.
Valorado por Juan José el 08/07/2019
Nada que destacar
Valorado por MARIA teresa el 21/05/2018